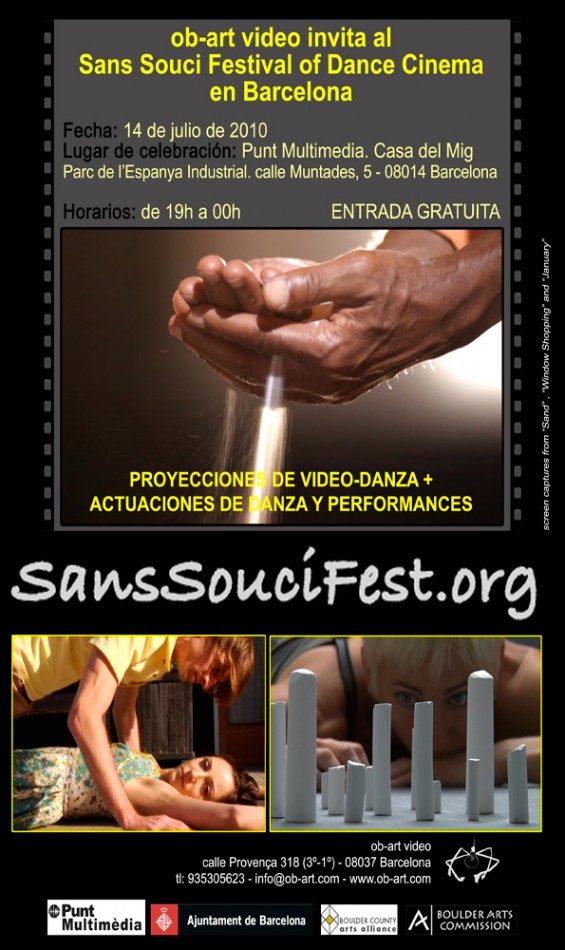 Sans Souci is proud to announce its collaboration with Ob-Art Collective (www.ob-art.com). The festival will be screening ¿Bailamos? (Let's Dance) as the "best of" our Festival in "Punt Multimedia" in Barcelona on July 14th, 2010.
Also it would be screened at San Souci's Boulder Program, 2010 at University of Colorado at Boulder, Boulder, CO, USA

Short films and live performance
Friday and Saturday, September 10-11, 7:30PM
Tickets: Evening events: $12 General Admission. Student passes are free but seating is limited. Reservations are recommended. All seating is first-come, first-served. Reserve passes.
Morning and afternoon events: Free admission.
More detailed info, click here
Let's Dance, 2010, 2 min, 16mm B&W
Produced and Directed by Malia Bruker, Oscar Molina
Choreography and dancing by Eun Jung Choi, Guillermo Ortega Tanus
Featuring Da Da Dance Project
Music composed by Dizzy Gillespie, Frank Paparelli
Music performed by Miles Davis and the Lighthouse All-Stars
Filmmaker Malia Bruker, Oscar Molina
Synopsis: "Let's Dance" is a sensual black and white film that captures the relief that dance provides in everyday life. (Philadelphia, PA, USA)
To watch the film, ¿Bailamos? on our website, click HERE.
For more information about the festival, click HERE.