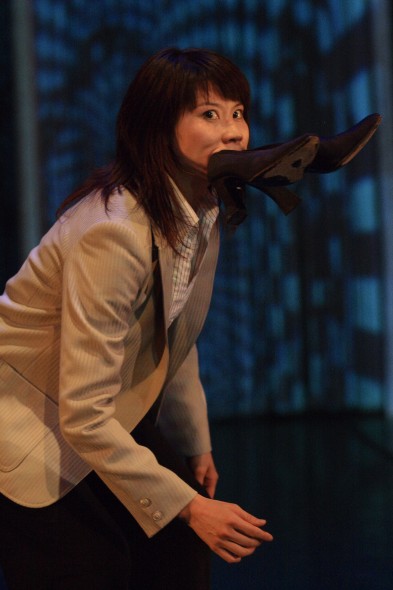 A native of Korea, Eun Jung Choi grew up learning Korean traditional dance before she moved to the US in 1991. Since graduating from the North Carolina School of the Arts in 1996, she has worked with numerous collaborators and dance companies, including Mark Dendy, The Limón Dance Company, Allyson Green Dance, Risa Jaroslow and Dancers, Seán Curran Co., Malashock Dance & Co., Eun Me Ahn, Lostwax (Providence, RI), Katija Wachter (Germany), Helena Franzén (Sweden), Pulso Cía. de Danza (Mexico), and many others, performing internationally in Asia, Europe, and North America.
She is the recipient of a Union Street Dance Rehearsal Space Grant and has received funds from Danspace Project's 2006-07, 05-06, and 03-04 Commissioning Initiatives, Korean Cultural Services NY and Dance New Amsterdam. Her choreography has been presented at Sushi Performance and Visual Art (San Diego), CEC (Philadelphia), DancenOw, Danspace Project's City/Dans, Global Exchange, DraftWork, FOOD FOR THOUGHT, DRA, Mexico Now Festival, Danceworks (Milwaukee), Daegue International Festival (Korea), Sexto Encuentro de Nueva Danza (Mexico City), and nEW Festival (Philadelphia).
As a teacher, Eun Jung has taught at NC Governor's School, Daegue Catholic University (Daegu, Korea), North Carolina School of the Arts, CICO (Center of choreographic Investigation, Mexico), 72 horas de verano en movimiento (Mexico City), Movimiento Escénico/Laborame (Mexico City), Little Red House School, PS 137, Tanya Tower, as well as various community and musical theater workshops in and around New York City.
Eun Jung graduated with a master's degree from the Interactive Telecommunications Program at NYU in 2003. Since then, She has worked as an interaction designer, implementing digital media as marketing tools for non-profit organizations, artists, and corporate clients including Toyota, Nestle, Phillip Morris, Ford, Cartoon Network, Bacardi, etc.