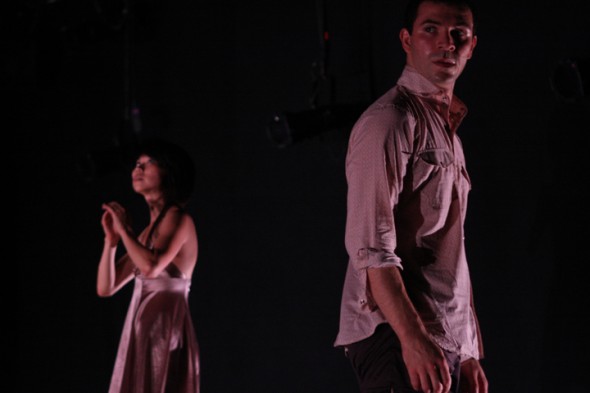 Choreography: Guillermo Ortega Tanus
Original Music: Valentina Gonzalez
Duration: 12 minutes
Premiere: @ Teatro del Fuego Nuevo, Iztapalapa, Mexico on April 24, 2008
Blood Orange explores different aspects of love and possible attractions. Rather than creating a particular story, the work uncovers the state of mind through physical dancing, singing, speaking a monologue, and conversing with others on stage. While easily falling into our sexual instinct, we desire to be a part of the life of someone significant. Blood Orange find the tension between our instinctual impulses and intellectual selections.
"They pursue, they sniff, they reject, reconcile, they harmonize their bodies and they join to create an absurdity and theatrical limitation … The same as reality?"
Jonathan Lomeli, Mural

"A more theatrical bent is revealed"
"endearingly non-presentational"
"Relationship" is clearly the context for this dance"
Elise Knudson, OFFOFFOFF.com

"Da∙Da∙Dance Project shows aspects of a relationship in an abstract, disjointed way."
Julie Fotheringham, iDanz.net

"with expressive and natural movements the duet showed the dynamics of couple"
Rebeca Pérez Vega, Público/Milenio
Performance History
Movement Research Judson Church Series @ Judson Church, New York, NY (work-in-progress, Mar. 31, 2008)
Teatro del Fuego Nuevo, Iztapalapa, Mexico (April 24, 2008)
5 Encuentro Internacional Nuevos Creadores a Escena @ Teatro Jalisco, Guadalajara, Mexico (Oct. 22, 2008)
Soliloquios y diálogos bailados @ Casa de las Bombas, Iztapalapa, Mexico (Feb. 26, 2009)
Soliloquios y diálogos bailados @ Teatro del Fuego Nuevo, Iztapalapa, Mexico (February 28, 2009)
Soliloquios y diálogos bailados @ Los Talleres, Mexico City, Mexico (Feb. 27-Mar.1, 2009)
Soliloquios y diálogos bailados @ Auditorio de la Universidad Autónoma de Tlaxcala, Tlaxcala, Mexico (Mar. 2, 2009)
XI Muestra Internacional de Danza Contemporanea @ Teatro Juarez, Oaxaca, Mexico (Mar. 4 , 2009)
Festival Internacional Danza Avant Garde @ Teatro Mérida, Mérida, Yucatán, Mexico (May 1-2, 2009)
Company NY season: Butter and Fly: Intends to walk @ Joyce SoHo, New York, NY (July 30 – Aug. 1, 2009)