Rowan University Performing Arts 2014 presents "A Story of Three Cities", an evening of dance and video by Da·Da·Dance Project. The performance will be at Pfleeger Concert Hall, Rowan University on March 5, 2014.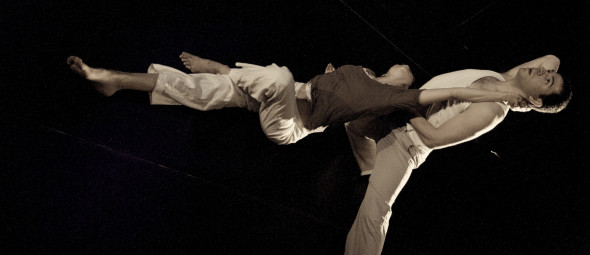 "A Story of Three Cities", features works by Erick Montes, Luke Gutgsell and two artistic directors of the company: Eun Jung Choi and Guillermo Ortega Tanus. Set to original sound score by Joo Won Park, the company will premiere a new trio, The Strangest Thing: Clearance 13'6" by Erick Montes. The work explores psychological layers and the mystery of stage events, creating an anti-climactic love thriller. John Luna adds visual layers to The Strangest Thing: Clearance 13'6" with video projection, and Patricia Dominguez designs the costumes.  Screening of Da·Da·Dance Project's video projects featuring Lince Siblings (a notable comic duo) from Mexico City is The visual images throughout this evening performance embrace humor, buoyancy, perplexity, aggression and a sense of absence, all through compelling contemporary dance.
Where: Pfleeger Concert Hall, Rowan University, Glassboro, New Jersey 08028
When: Wednesday, March 05, 2014 at 8:00 PM
Tickets: $15.00 for General Admission, $10.00 for Senior/Student. To purchase tickets online visit rowan.tix.com or call 856.256.4545
Tickets for Rowan students and staff with valid ID are FREE, but cannot be reserved.  The box office is open Monday – Friday, 9:00 am – 4:00 pm and one hour before the performance.
For additional information about the performance and theater location/directions, visit Rowan University Website: www.rowan.edu/cpa or E-Mail: arts@rowan.edu
Guest Choreographer/Performer Bio
Erick Montes (Guest Choreographer/Performer) is a dancer/member of The Bill T.Jones/ Arnie Zane Dance Company since 2003. He trained at The National School of Classical and Contemporary Dance in Mexico City where his professional career started with Company Barro Rojo Arte Escénico in 1997. He holds a fellowship in Choreography from The New York Foundation for the Arts, and as faculty, he has been invited to The National Ballet Academy of Beijing, The International Project for Dance and Performing Arts in Rome, Italy and The Autonomous National University in San Jose, Costa Rica. Erick has collaborated with artists such as Stephen Petronio, Bill Young, Colleen Thomas, Jenifer Nugent, Ryan Kelly, Malcolm Low, Eun Jung Choi and Guillermo Ortega Tanus among others, presenting his own work in La MaMa Experimental Theater as part of International Series, E-Moves at The Gate House at Harlem Stage, Skirball Center for the Performing Arts for The Mexico Now Festival and The BlaTino Series at The Bronx Academy of Arts and Dance.
Luke Gutgsell (Guest Choreographer) is a Portland based dancer/choreographer. He was born and raised in Lexington, Kentucky where he began his early movement training in gymnastics. In 2004, he graduated from The Ohio State University with a BFA in Dance Performance. Luke also attended the Naropa Institute. He trained on scholarship at the Merce Cunningham studio and apprenticed and performed with Bill T. Jones/Arnie Zane Dance Company and Shen Wei Dance Arts. He has also had the great fortune to perform in the companies of David Dorfmans, Chris Elam, Risa Jaroslow, JoAnna Mendl Shaw, Tiffany Mills, Jody Oberfelder, Laura Peterson, Risa Jaroslow, Christopher Williams and Michou Zsabo. His choreography has been presented in New York City at Danspace Project, Dixon Place, The West End Theater and the LaMama Theater.